SapphireAl2O3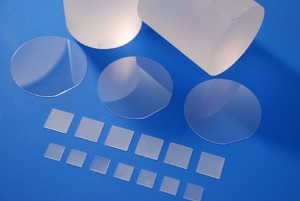 We provide the most suitable sapphire substrates for epitaxial thin-film growth of group III nitride semiconductor, superconductor, and dielectrics.
Our sapphire substrate is made by in-house integrated production system starting from crystal growth (by our original TSMG method) to the surface polishing.
The quality of crystallinity, surface processing, and the cleaning and packaging have been highly evaluated by our customers both at home and abroad.
Characteristics
Composition

Al2O3

Crystal system

Trigonal (Rhombohedral)

Crystal structure

Corundum

Lattice constant

(nm)
a=0.47588, c=1.2992 (

As hexagonal

※)

Melting point

(℃)
2040

Density

(g/cm3)
3.987

Crystal growth method

TSMG method

Dielectric constant

(//c

-axis

) 9.41 at 30 GHz

Dielectric loss

(//c

-axis

) 3×10-5 at 30 GHz

Linear expansion coefficient

(10-6/℃)

a-axis:6.93, c-axis:7.63 at 200 ℃

a-axis:8.89, c-axis:9.97 at 1000 ℃
※The precise system is trigonal (a=0.513 nm, α=55.1 °), but it is generally treated as hexagonal.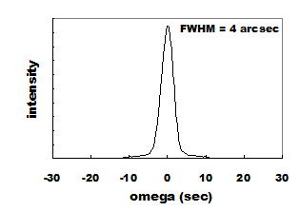 X-ray rocking curve of sapphire crystal
Standard specs
Size (mm)
(Tolerance)

10×10 (±0.1), 15×15 (±0.1)

φ50.8 (±0.25)
φ76.2 (±0.25)
Thickness (mm)
(Tolerance±0.05)
0.5
0.33, 0.43
0.55

Flatness

(μm)
<1
<10
<25

Purity

(%)
>99.99
>99.99
>99.99
Orientation
(Tolerance: ±0.5°)
c(0001)
r(01-12)
a(11-20)
m(10-10)

c(0001)
r(01-12)
a(11-20)

m(10-10)

c(0001)

r(01-12)

a(11-20)

m(10-10)

Polishing

One-side / Both-side

One-side / Both-side

One-side / Both-side

Packaging unit

10

pcs

25 pcs, vacuum packaging

25 pcs, vacuum packaging

Options

STEP substrate
OFF substrate
Breakable substrate
STEP substrate
OFF substrate
Laser marking
STEP substrate
OFF substrate
Laser marking
※If you are looking for other specs, please contact us.
※Delivery time (about):
Standard model: 1 week after order
Special model: 1 month or more after order