Titanium Dioxide (Rutile)


TiO2

Rutile is attracting attention not only as a birefringent material for optics but also as a substrate for epitaxial growth.
Our TiO2 crystal has world-leading size, quality, and production volume, and it is made by integrated production system starting from Verneuil crystal growth to the surface polishing.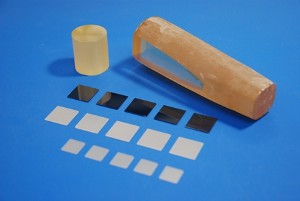 Nb:TiO2 substrate with electrical conductivity and STEP substrates with atomically flat surface are also available. We hope our substrates can help your research.
Characteristics
Composition

TiO2

Crystal system

Tetragonal

Crystal structure

Rutile

Lattice constant

a=0.45935 nm, c=0.29580 nm

Melting point

1840 ℃

Growth method

Verneuil method

Density

4.252 g/cm3(20 ℃)

Dielectric constant

113 (1 MHz)

Thermal expansion coefficient

(30~400℃)
(a

-axis

)7.81×10-6/℃ , (c

-axis

)10.1×10-6/℃

Band gap

3.0 eV

Refractive index

(at 706.5 nm)
no=2.5490, ne=2.8226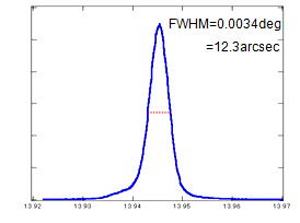 X-ray rocking curve of rutile crystal
Standard specs
Type

TiO2
Nb(0.05 wt%) :TiO2 Nb=0.04 at%
Nb(0.5 wt%) :TiO2 Nb=0.43 at%
Nb(1.0 wt%) :TiO2 Nb=0.86 at%

Purity

>99.98 %
>99.98 %
>99.98 %
>99.98 %

Resistivity

(Ω・cm)
>107

Approx. 

5×100

Approx. 

3×10-1

Approx. 

1.5×10-1

Orientation

(

Tolerance

:±0.5 °)
(100) (110) (001)
(100) (110) (001)
(100) (110) (001)
(100) (110) (001)

Size (Outer size tolerance: ±0.1 mm / Thickness tolerance: ±0.05 mm)

10×10×0.5t

15×15×0.5t

10×10×0.5t

15×15×0.5t

10×10×0.5t

15×15×0.5t

10×10×0.5t

15×15×0.5t

Polishing

One-side / Both-side

One-side / Both-side

One-side / Both-side

One-side / Both-side

Surface roughness

Ra≦1.0nm

Rmax≦5.0nm

Ra≦1.0nm

Rmax≦5.0nm

Ra≦1.0nm

Rmax≦5.0nm

Ra≦1.0nm

Rmax≦5.0nm

Flatness

(λ=632.8 nm)

10×10≦λ

15×15≦1.5λ

10×10≦λ

15×15≦1.5λ

10×10≦λ

15×15≦1.5λ

10×10≦λ

15×15≦1.5λ

Options

STEP substrate
OFF substrate
Breakable substrate
STEP substrate
OFF substrate
Breakable substrate
STEP substrate
OFF substrate
Breakable substrate
OFF substrate
Breakable substrate
※If you are looking for other specs, please contact us.
※Delivery time (about): Standard model … 1 week after order / Special model … 1 month or more after order