Neodymium Gallate


NdGaO3

NaGaO3(110) is widely used as a substrate for epitaxial growth of magnetic materials, ferroelectrics, and superconductors.
The (011) plane is also attracting attention as an epitaxial substrate for GaN because its lattice length and symmetry are similar to those of GaN (0001).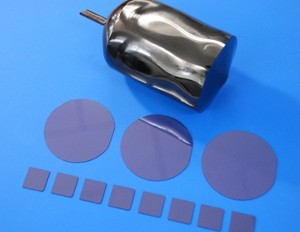 Our company performs integrated production from crystal growth by CZ method to substrate processing.
We hope our substrates can help your research.
Characteristics
Composition

NdGaO3

Crystal system

Orthorhombic

Crystal structure

Perovskite

Lattice constant

a=0.5431 nm, b=0.5499 nm, c=0.7710 nm

Melting point

1650 ℃

Density

7.56 g/cm3

Crystal growth method

CZ

method

Dielectric constant

20~25 (27℃,1 MHz)

Thermal expansion coefficient

10×10-6/℃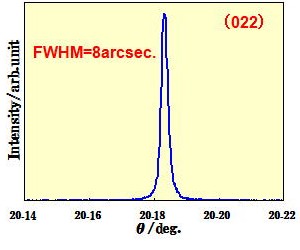 X-ray rocking curve of Neodymium Gallate crystal
Standard specs
Size
(Outer size tolerance: ±0.1 mm / Thickness tolerance: ±0.05 mm)
10×10×0.5 t
15×15×0.5 t
Orientation
(Tolerance: ±0.5°)
(100), (001)
(110), (011)

Polishing

One-side / Both-side

Surface roughness

Ra≦1.0 nm, Rmax≦5.0 nm
Flatness
(λ=632.8 nm)

10×10×0.5 t

≦λ


15×15×0.5 t

≦1.5 λ

Options

OFF

substrate




Breakable substrate
※If you are looking for other specs, please contact us.
※Delivery time (about):
Standard model: 1 week after order
Special model: 1 month or more after order